Join the Transformational Journey with
Studio 220 Films!

Are you tired of the same old stereotypes in faith-based films?
So are we! Studio 220 Films is on a mission to redefine what it means to be a faith-based film. Our unique approach combines powerful storytelling, compelling characters, and cinematic excellence to create movies that inspire, challenge, and resonate with audiences of all backgrounds.

But we can't do it alone. To continue making groundbreaking films that challenge the status quo and impact lives worldwide, we need your support! Your financial contribution can make a real difference in helping us reach our goals.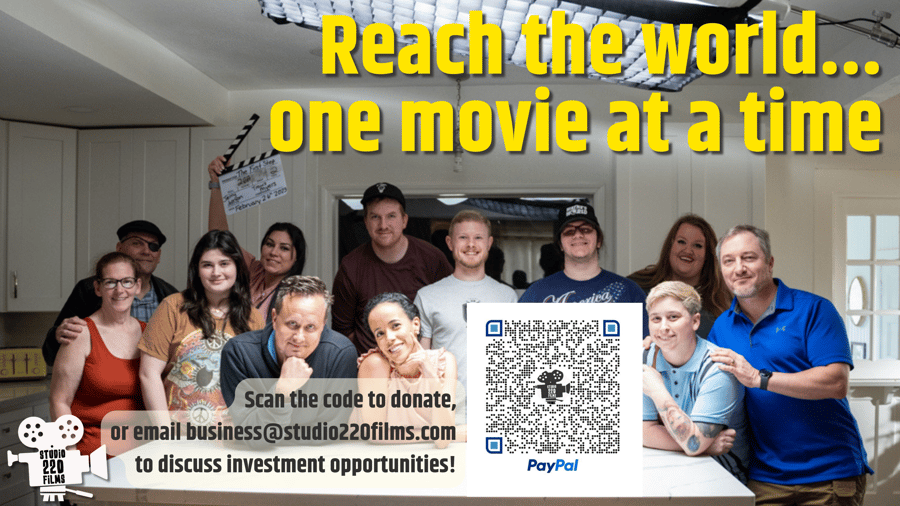 Here's how you can be a part of this transformation:
🌟 Donate Today: Every dollar counts and brings us one step closer to creating thought-provoking, faith-based films that make a positive impact. Scan the QR code above, or click HERE.

🌟 Spread the Word: Share our mission with your friends, family, and community. Together, we can build a movement of change through the power of cinema.

🌟 Collaborate with Us: If you're passionate about our vision, consider partnering with Studio 220 Films to help us bring innovative stories to life. Join us in reshaping the world's perception of faith-based films.

Together, we can make a profound difference and inspire a new era of storytelling. Together, we can change the world, one film at a time. Support Studio 220 Films today and be part of the cinematic revolution that's transforming hearts and minds worldwide.

James 2:20: ...faith without deeds is useless...